(Click on pictures to make bigger)
It's a nice morning, not too chilly or too foggy. We drive from our Oakland hotel across the Bay Bridge, exiting half way at Treasure Island. It's a nice spot for an event, with stunning views of San Francisco and Oakland all around. Robin feeds Ariel, Anna's getting her jacket on, and I head off to set up our transition area. We're the "FCA Endurance" relay team. This will be our 3rd TeamSoares relay effort. I start off with the swim and bike and Robin brings it home with the run.
I meet Greg Heidt, Robin's cousin, and ride 1 lap of the course showing him the turns and tricky sections. The race includes a 2-lap swim, 6-lap bike, and 3-lap run. The bike has a total of 108 turns! We rush back to T1 so Greg can wetsuit up and warm-up for the swim. He's the 1st wave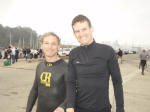 at 7:15 and we're the last wave at 9:15. He's a strong athlete, recently succeeding in college rowing, and now trying his best in triathlon.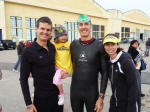 We have 2 hours to wait for our wave and enjoy chatting with and watching friends start their races. Greg Heidt's wave is directed wrong in the swim and goes 200yds too far. Greg almost finishes his race before I even start. We chat with Dan Perkins, Dave Krevor, Kiet Tran, Dennis Lee, Todd Allington, Betsy Davis and Scott Zavack as they get ready.
The Swim: I jump into Pirate's Cove, a protected area of the San Francisco Bay. Wow, that's cold! I have 10min to warm-up but wonder how that's possible in this water. I feel fast for a while, but the adrenaline is probably the reason. My relay wave is small. This will make for a nice, low-contact swim. I haven't trained much because of work but I've stretched and warmed up well and ready to do my best.
Go! It's a good start. A few get ahead quick but I latch onto someone's draft. It's going well but I'm struggling breathing. My neck strap is too tight. I forgot to check it. I try to breathe slower and deeper. I loose my draft and fall farther behind. But I make a good tight turn around the buoy, pulling ahead of the others. ½ way to the next buoy they catch and re-pass me and I just can't generate any speed to catch them. I tug the strap around my neck to loosen it resulting in 61° degree water pouring into my suit. I'm going to have to swim hard to warm up again. Coming back to the start I'm wishing this was the only lap. But I try to pump up for the next lap.. it's going to be good! Go faster! I round the start buoy and head out again. I'm all alone. I pull on my neck strap again, more water pours in.. brrr, that's cold. But I hope it jolts me to swim faster. I'm doing the best I can and finally head past the last buoy for the finish. The leaders of my wave are already getting out. But I think I've held my position well. I haven't let anyone catch me. Just then I see a girl gaining on me. Sure enough, she passes me right at the end. She made a great move and deserved it… while I, on the other hand, was thinking, "I'm just fine", when I should have been going hard all the way like her.
T1: I carefully emerge from the chilly water. Suit comes off fast. But I can barely jog on my frozen feet. Greg, finished from his race, comes over to cheer me on which helps. I transition fast and run with my bike to the mount line.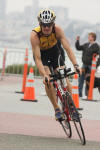 The Bike: My feet are cold. I think of Todd Allington. His wife, Elizabeth, said he was experimenting with tiny heat packs in his bike shoes. Ooh, that would be so nice right now. The course is bumpy and treacherous. But this is where I'm supposed to make up for my lack of fitness, but negotiating the course with good lines. I had raised my seat up a little beforehand and expected a little more power. But instead I'm finding myself really working hard and the speed barely above 20mph.
Lap 1: 12:53 This is hard. 6 laps seems so long. There's fewer people on the course with each lap. I'm making pretty good turns, but not keeping all my speed and having to work hard to accelerate afterwards.
Lap 2: 12:24 Onto my 3rd lap I'm learning where the best lines are and finding the black patches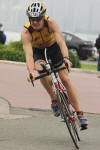 of new rough asphalt are smoother than the old stuff around them. I take a great line through 1 corner and pass an older guy who looks pretty good. He kind of chuckles, acknowledging that I made a good move. But in the next turn I go wide and get behind a slower rider, hitting my brakes, as the older guy passes easily by, again chuckling, saying, "that's how it goes sometimes". Yep, sometimes you get a good break and sometimes a tough break. This guy was really having fun out here J On the one hill I drop my chain. Since I'm climbing I can't ease it back on and have to get off. Ow, the legs are tight! And the chain is stuck. Finally back on.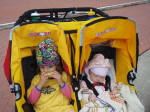 Lap 3: 11:23 That was much better. I'm getting to know the course better. Not loosing as much speed in the turns. I'm ½ way done, keep up the pace. I love coming through the first turn at the main race area. It's lined with people and feels great darting through it. I see Dan Perkins, and his great running form, finishing up his run in his yellow FCA Endurance jersey. I see Robin, Anna and Ariel jogging around the course cheering for me. She was asking what lap I'm on but I couldn't hear. She also noticed that I looked tired and not my usually bike form. Yep, that's how I was feeling. But still gotta do my best.. Robin's counting on me. She's going to run her best, I can't give any less.
Lap 4: 11:25 Pretty good. I can do it, just 2 more laps. I take in the sights of the City… it's amazing.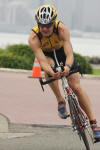 Lap 5: 11:22 Ok, great, my fastest lap. Feeling more and more comfortable with all the turns. I'm thinking that as soon as I really know how to take each turn, the race will be over. I guess it would be good to ride this course more in practice.
Lap 6: 12:08 So glad to be done! I jump off my bike. But I can't feel my feet! I forgot about them being cold. Now I can't run. I see them down there but I don't feel them hitting the ground. I hobble towards T2 knowing Robin is waiting. She meets me at the rack, takes the Chip timer, smiles and bolts onto the course. Whew! That seemed like a long race J
Robin's Race
I'm off! My adrenaline is going as I leave T2 amongst cheers from Troy and the Allingtons and others. I have a lofty goal of averaging 7 min pace. This is a three lap, out-n-back course.
I feel strong the first half mile and really think my goal is attainable. David Krevor cheers for me as I'm going out. In between breaths, I tell him good job.
Mile 1: 7:22. Wow, I feel like I'm running faster than that. But I know I'm lacking fitness since I haven't trained a lot. Troy has been working out of town a lot so it's been harder to fit in workouts. Okay, maybe it's still possible once I find a rhythm…let's try to maintain this for the first loop and then bring it down. A relay guy with a Hammer Nutrition jersey flies by me. There's no way I can match his pace! I see Betsy Davis, of TriCalifornia, coming the other way. I tell her she looks strong. She really does.
At the turn around I can tell the course is going to be long but I try not to focus on that. There's a girl running strong ahead of me. I work hard to catch her.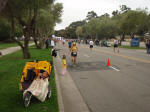 Mile 2: 7:13. As I pass her I tell her, "Strong pace." I head into the main cheering zone and finish area. Troy and the girls are making their way over from T2. I make the turn around and see Deb, a friend of Kathy Emig, cheering for me…so sweet! Anna is up head waiting to give me a high five. We connect as I run past. I look back and see her chasing me. Anna loves to run and is looking forward to doing a kids race in a few weeks.
Mile 3 is 7:18. I don't see how I can physically go faster. I don't give up hope on seeing a 7 min split…but I know averaging 7 min pace is out of the question. Another relay guy passes me and I cannot match his pace. David Krevor cheers for me again and I cheer back.
I make the turn around again. I see the girl I passed previously just behind me and pushing hard…it pushes me to keep up the pace.
Mile 4 is 7:22. I catch up to Betsy and see a "50" on her calf. No way! She makes 50 look like 40. I tell her that the body markers should have wrote a "40" on her calf. She thinks I said her age marking is wrong. I tell her that it may be the right age but she sure doesn't look it.
Back at the finish area I see my gang. I make the turn again and see Deb cheering. Then I see Anna waiting to give me another high 5. We miss but I tell that I'll see her when I come back.
Mile 5 is 7:19. This course is going to be long but I still hope I can pull out a sub-45 10k. Another relay guy passes me and I let him go for a moment. I can see that he's not pulling away and decide to push it and catch up to him. I catch him and tell him good job. He tells me that his buddies are racing against him on another team and he's trying to hold them off. I tell him to go for it! He pulls ahead again but I keep him in my sights
At the turn around we can see that his buddy is not far behind. I also see that girl is still close and it motivates me to catch the relay guy again. I surge and pass him, telling him to push it as I go by. My heart rate hits 190…wow! I decide to start my kick now and see if I can hold it. It's a risk because I'm already at my max.
Mile 6: 7:10. I can just see the finish line but it's much farther than the expected .2 miles. I look at my watch and it's almost at 45 min. Well, I tried!
I keep pushing hard as I get closer. I see Anna with Troy. He motions to me that she wants to finish with me. I slow down and grab her hand. We jog across the finish together. We are both beaming. I'm so proud of my girl!
Go Dan!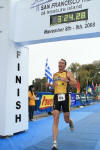 Go Greg!
Go Todd!
Team Soares Working the Expo for FCA Endurance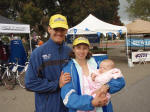 3rd Place!
(Well, the results keep changing and as of 11/21 we are 5th)