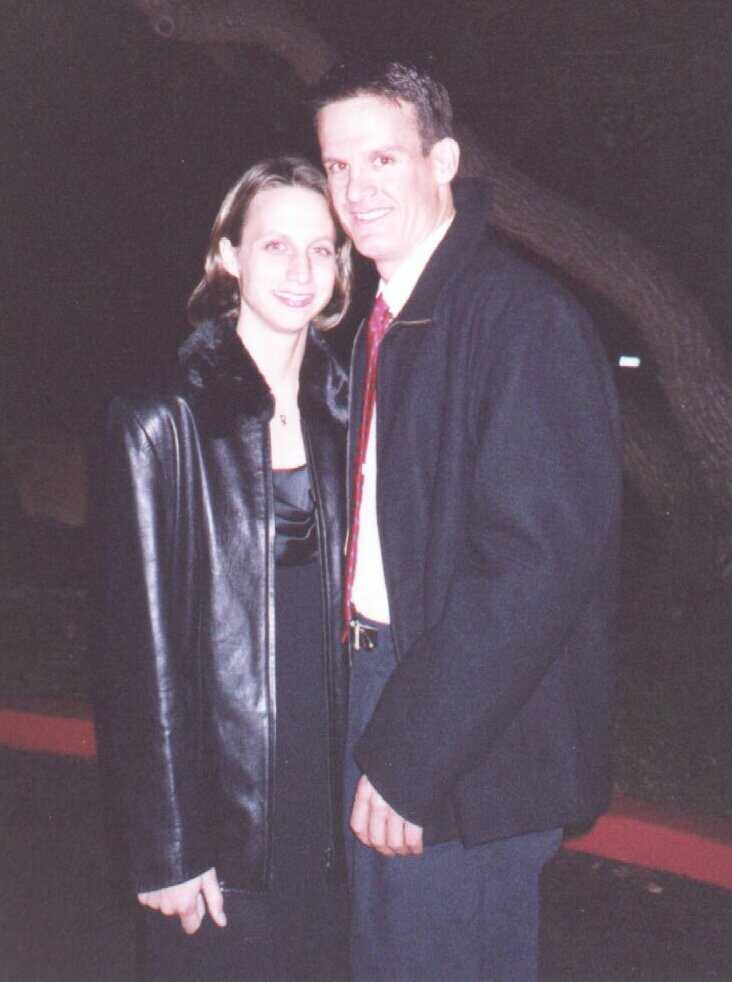 The original emails that introduced Robin & Troy......
Hi(=
I've competed in the Wildflower for the past two years. I was fortunate to have made it to the Sunday church service before the Oly. Distance event. I really enjoyed being surrounded by other Christian triathletes!
I was wondering if you knew of any Christian triathletes/groups that train in the Palo Alto area. It's hard to find fellow Christian athletes in the bay area so it would be great to get plugged in with some of them.
Thank you for your time(=

God Bless,
Robin Heidt
I don't off hand but I am going to give your e-mail to Troy Soares who lives in that area. He may know some.
Hi Robin,
I'm glad Terry forwarded this to me. I'm a Christian triathlete, too, and am always thrilled to meet more. As triathletes we spend a lot of time training and for a while I was doing it with non-Christians all the time until I found myself praying to meet a "guy Christian triathlete" that I could train with AND fellowship with at the same time. It was answered within 2 weeks! Maybe you prayed a similar prayer. Anyway, I like sharing that story because it led to so much local development with Christian triathletes. I actually know 4 triathletes I trained with that have accepted Christ in the last 5 yrs! And 1 that re-committed her life. :)
Oh, and I dream of being in a Christian triathlete team, wouldn't that be cool?
Anyway, I'm sorry, you were wondering about the Palo Alto area for athletes to train with.
David & Michelle Ridder live in Mtn View. They're great, compassionate, athletes and ones I seek fellowship with often. Michelle's actually in between jobs and always looking for a partner to train with. I'd check in with her. Hey, Michelle, going on any rides soon? :)
I don't know any established Christian training groups... actually the group Michelle & I ride with periodically (lately, not enough unfortunately) sometimes has 6 Christians in it so that would be the biggest group I know of. Wow, we really should make something of this.. it's so cool!

God Bless,
Troy Soares
Hey Troy-
Thank you so much for your e-mail. I definitely have been praying for Christian triathletes to train with. I am currently training a couple of days a week with the Team Sheeper group in Menlo Park. For the longest time I have been longing for other Christians to train with to get that combination of the training and the fellowship. As you know, training for this sport is time consuming and sometimes I think it prevents me from getting fellowship during the week. That's why I am totally excited to hear that there are others like me who have the same desire. It would be so cool to have a Christian triathlon club. This could turn into a really great ministry! I am a high school teacher and cross country coach so I'm pretty busy during some of the week, but I can always find time to sneak in a ride or run. We'll have to try to coordinate a ride or run sometime soon.
Hopefully we can figure out a time when we can get some of these other Christian triathletes together(= Thanks again.

Robin(=
Wow, so great to hear, Robin. Yes, I understand where you are coming from and turning our triathloning into a ministry is a great/important idea... because God always seems to create more time for us when we give more time to Him :) ..and people always ask about triathloning.. great conversation starter into "Jesus is my strength"
I can imagine how busy you are. It may not be soon, but, yes, let's try to get together and share some more thoughts and ideas. School's starting up for you I imagine. May God grant you strength!

Troy