IT WAS A SECRET...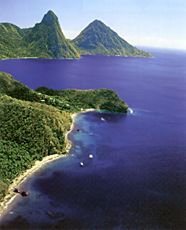 But now you can all know!
Robin & I went to a small island in the Caribbean named St. Lucia. It is the youngest island and near Barbados & Martinique. It is tropical with very lush mountainsides, fertile valleys, and picture perfect beaches.
It has 150,000 people. 90% black. They speak English & French patois. They are under British rule. Bananas was the main export but changes in European importing has hit them hard and they are struggling with diversifying. Unemployment is over 15%.
We spent 4 days in the southern city of Soufriere (which means "sulfur in the air") next to the volcano, at a very remote private resort named Anse Chastanet (which means "ocean spray on the rocks"). We spent the next 4 days in the northern city, and capital, Castries at an all-inclusive couples resort, Sandals Halcyon.
Soufriere was hit by a huge tidal wave 2 years ago caused by hurricane Lenny. I didn't know this when, 3 weeks prior, Robin started having nightmares about tidal waves. After 5 or 6 of these I thought I'd better check our secret destination. The headlines on the website told of the destructive tidal wave and hurricane! I was shocked but it sounded liked the resort wasn't hit bad and we would still go. I couldn't tell Robin for our destination was a surprise. Fortunately when we got there I learned it was a 2 yr old incident and the webpage wasn't updated.
At Anse Chastanet we experienced complete escape as there were no phones, TV's, radios, or air conditioning. Just the sounds of birds and animals in the trees and the spectacular views of the towering Piton mountains and the palm-lined volcanic sand beaches. Our suite was probably 900sq. ft, and required climbing 100's of stairs up a hillside to get to it. Everything was included. We ate gourmet meals, got massages, toured the volcano, snorkeled, mountain biked (on the hardest trail I've ever seen!), scuba dived, hiked, and danced to a steel drum band.
At Sandals we met many more newlyweds and enjoyed a little more social atmosphere. We expanded our activities to sailing catamarans, riding horses, and playing golf. We strolled the pristine grounds, dipping into pools, playing life-size chess, and swimming in the sea. We tried all the gourmet restaurants and liked the Japanese one the most, where the food is cooked in front of you. At Sandals we could now utilize phones, TV's, radios, and air conditioning again which was nice. Also the concierge service always kept us pampered and in the know. On our very last day we finally put on the running shoes and ran a few miles!
It was a relaxing and exciting paradise and the best part was experiencing it together with your best friend. We also kept the troubles from lessening the fun. Robin's luggage arrived a day after us. A boat rope snagged Robin's leg and scraped it up pretty good. We lost Robin's glasses in the jungle, but miraculously found them after a big search. My camera with a full roll of pictures and 2 of Robin's necklaces turned up missing. I got vertigo sickness from our scuba diving adventure. And we lost our Bible reading plan. But we came back safe and sound, with memories for a lifetime!
And, yes, 2 people from the wedding actually guessed the correct location! Mark Cosgrove and Leonie Wynhoven (Robin's maid of honor) guessed St. Lucia and won some special prizes.